When it comes to coping with heatwaves, our own cities are conspiring against us. Road surfaces, pavements and buildings all contribute to keeping urbanised environments three to four degrees hotter than surrounding non-urbanised areas.
With heatwaves like the ones that have just baked half of Australia to a crisp forecast to increase in frequency and intensity, city councils are taking the urban heat island effect very seriously.
"Some of the modelling studies have shown that we can often have an urban heat island magnitude – so that's the difference between the temperature in the city versus the temperature in the non-urbanised surroundings – that can be greater than the types of temperature increases that we're looking at with global warming," says Dr Melissa Hart, graduate director of the ARC Centre of Excellence for Climate System Science at the University of New South Wales.
The urban heat island effect occurs because the dense dark surfaces such as bitumen on roads and building materials used in cities accumulate and store heat during the day and then release it at night.
"That's important, particularly during hot summer evenings; if the minimum temperatures are much warmer at night and not cooling down then that can have health implications," Hart says. And those health implications are staggering: in 2009, 374 people died across metropolitan Melbourne in one heatwave: more than Victoria's annual road toll.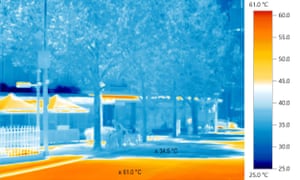 One of the simplest solutions to reducing the urban heat island effect is to provide more shade, with trees.
In 2012 Melbourne city council launched an ambitious project to double the tree canopy cover from 22% to 40% by 2040, by planting about 3,000 new trees every year.
"On thermal images, you can see clearly the red hotspots of cities are streets, roads, carparks – wherever there is bitumen and concrete – and you can see the contrast with parks, garden and trees," says councillor Cathy Oke, chair of Melbourne City council's environment portfolio.